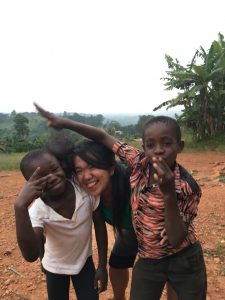 My main goal was to have an experience in education with kids and to grow personally speaking. I met Madiba project in 2014 when I was in Cameroon for another internship in an NGO working in Human Rights fields. Already three years ago I was impressed of this project because I saw how much it was concrete and how much it could really change the situation. That's why this year, I decided to come back to this country and to get part of this project.
I expected to live in a local reality and to get in touch with a real Cameroonian village without any connection with "cities environment". My intention was that work and create a local impact. Our team was an international team, composed by people from Cameroon, Spain and Italy. The environment was good, and we create a good working atmosphere.
I have already been in Cameroon, and I have already visited Bangoua in 2014, and I am happy about this month because I increased a lot my awareness about the situation concerning education, water issues etc in a rural area of Cameroon. This awareness contributed also to my personal growth and confirmed once again what I want to do in my future life.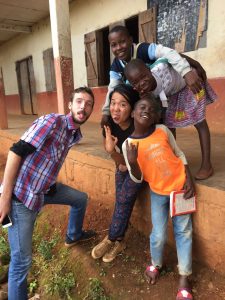 It is a concrete project, and it takes you to be in contact with the real local reality of the village and I believe this makes people growth personally. Moreover, I believe that especially in the western countries, too many people need more awareness about what is happening in the work outside from their comfort zone.
During this month, I worked especially with kids, managing classes of Chinese, Italian and extra –activities. It was really nice experience because I have never worked with children and this experience increased a lot my competencies in how to work with them. A part from this, I took part of the English class for hospital workers, both for intermediate and for beginners. It was interesting to see how we have to act differently with kids and adults.
A from the educational experience, I went with my team members to interview people from the village about the water situation and also about the commercial situation of Bangoua. This made possible a direct contact with the reality of the village and increased my awareness about this part of the world.
Susy Jian, Italy 2014/2017