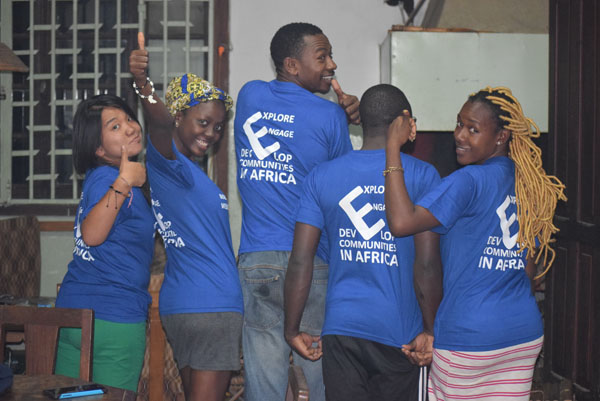 [:en]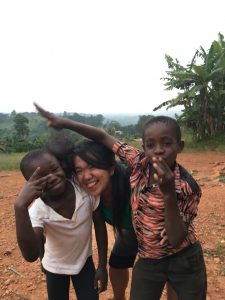 My main goal was to have an experience in education with kids and to grow personally speaking. I met Madiba project in 2014 when I was in Cameroon for another internship in an NGO working in Human Rights fields. Already three years ago I was impressed of this project because I saw how much it was concrete and how much it could really change the situation. That's why this year, I decided to come back to this country and to get part of this project.
I expected to live in a local reality and to get in touch with a real Cameroonian village without any connection with "cities environment". My intention was that work and create a local impact. Our team was an international team, composed by people from Cameroon, Spain and Italy. The environment was good, and we create a good working atmosphere.
I have already been in Cameroon, and I have already visited Bangoua in 2014, and I am happy about this month because I increased a lot my awareness about the situation concerning education, water issues etc in a rural area of Cameroon. This awareness contributed also to my personal growth and confirmed once again what I want to do in my future life.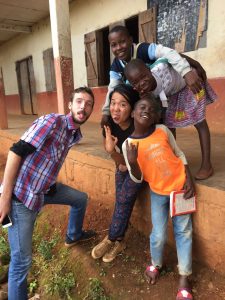 It is a concrete project, and it takes you to be in contact with the real local reality of the village and I believe this makes people growth personally. Moreover, I believe that especially in the western countries, too many people need more awareness about what is happening in the work outside from their comfort zone.
During this month, I worked especially with kids, managing classes of Chinese, Italian and extra –activities. It was really nice experience because I have never worked with children and this experience increased a lot my competencies in how to work with them. A part from this, I took part of the English class for hospital workers, both for intermediate and for beginners. It was interesting to see how we have to act differently with kids and adults.
A from the educational experience, I went with my team members to interview people from the village about the water situation and also about the commercial situation of Bangoua. This made possible a direct contact with the reality of the village and increased my awareness about this part of the world.
Susy Jian, Italy 2014/2017
[:es]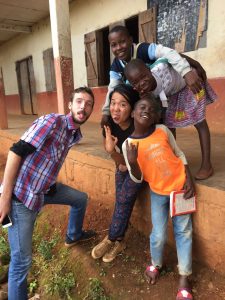 Mi objetivo principal era tener una experiencia en educación con niños y crecer personalmente hablando. Conocí el proyecto Madiba en 2014 cuando estaba en Camerún para otra pasantía en una ONG que trabaja en campos de Derechos Humanos. Hace ya tres años que quedé impresionado con este proyecto porque vi cuánto era concreto y cuánto podía cambiar realmente la situación. Es por eso que este año, decidí regresar a este país y obtener parte de este proyecto.
Esperaba vivir en una realidad local y ponerme en contacto con un pueblo camerunés real sin ninguna conexión con el "entorno de las ciudades". Mi intención era trabajar y crear un impacto local. Nuestro equipo era un equipo internacional, compuesto por personas de Camerún, España e Italia. El ambiente era bueno y creamos una buena atmósfera de trabajo.
Ya estuve en Camerún, y ya visité Bangoua en 2014, y estoy contento con este mes porque aumenté mucho mi conocimiento sobre la situación en materia de educación, agua, etc. en una zona rural de Camerún. Esta conciencia también contribuyó a mi crecimiento personal y confirmó una vez más lo que quiero hacer en mi vida futura.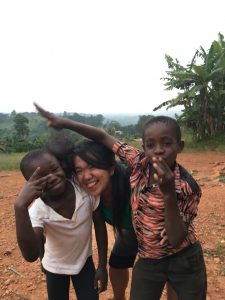 Es un proyecto concreto, y te lleva a estar en contacto con la realidad local real de la aldea y creo que esto hace que la gente crezca personalmente. Además, creo que especialmente en los países occidentales, demasiadas personas necesitan más conocimiento sobre lo que está sucediendo en el trabajo fuera de su zona de confort.
Durante este mes, trabajé especialmente con niños, administrando clases de chino, italiano y extraactividades. Fue una experiencia realmente agradable porque nunca he trabajado con niños y esta experiencia aumentó mucho mis competencias sobre cómo trabajar con ellos. A parte de esto, participé en la clase de inglés para trabajadores de hospitales, tanto para intermedios como para principiantes. Fue interesante ver cómo tenemos que actuar de manera diferente con niños y adultos.
A partir de la experiencia educativa, fui con los miembros de mi equipo a entrevistar a gente de la aldea sobre la situación del agua y también sobre la situación comercial de Bangoua. Esto hizo posible un contacto directo con la realidad del pueblo y aumentó mi conciencia sobre esta parte del mundo.
Susy Jian, Italia 2014/2017
[:]