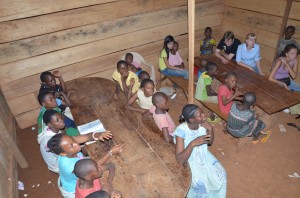 Today, it is estimated that there are over 143 million orphans in the world. That is enough children to go three times around the world at the equator. The study indicates that the child poverty rate in Cameroon was 46.02% in 2007. Furthermore there exist disparities in the incidence of poverty within the country; households with children in rural areas are six times as likely to be at risk of poverty as compared with households with children in urban areas. In terms of deprivation, 64% of all children in Cameroon experience at least one form of severe deprivation, the most frequent of which is access to housing. Additionally, 30% of children lack access to food; 30% of children are deprived of access to information; and 20% of education.
"EVERY CHILD is OURS", ECO Project
Is a project based on participation of our international volunteers assisting children's education. Our most concerned target are deprived children in orphanages and school where most of students are from very poor families.
OBJECTIVES OF THE PROJECT
Initiate a movement of sensitivity for the issue in the country.
Mobilize human resources to spread awareness around children, orphans and poverty.
Enable the youth of Cameroon to have an open mindset towards the issue.
Create young leaders who can positively work and impact society.
Create good case practices in Cameroon for spreading awareness that can be adopted by other countries.
Enable Cameroonian children to learn about foreign countries.
Cultural diversity for both NGOs and children.
PROJECT PHASES
a) CONTINUOUS INDUCTION
b) NGOs/SCHOOL WORK
c) ORPHANAGE WORK
d) SPECIAL EVENTS
Please contact us at project@webdevfoundation.org for the booklet and more informations.
The "Every Child is Ours" Project is run each year from January 5th to February 28th.