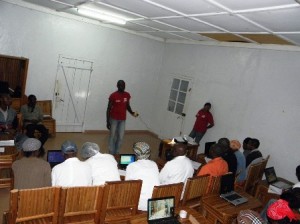 This program is for those who are interested in the planning and manual labor aspect of volunteering/internship. Most volunteers/interns see this as an adventure. There is lots of fun working together with local people working on Agricultural and farming projects or building projects such as schools, clinics, health centers, market centers etc. volunteering/internship in such programs is challenging. Can you pound a nail, swing a paint brush, or plant a flower or a cocoa three?
Volunteers/interns will engage in construction activities such as digging, mixing sand and cement, carrying bricks, sand, fetching water, and painting school buildings or plating cocoa in the farm, clearing the cocoa farm, spraying chemicals on the cocoa, harvesting, drying cocoa, weighing cocoa or assist villagers to sell their cocoa when there is a new buyer; it can also be working to clean a museum in a village. You can also help clear park land, plant community gardens (trees), dig wells, construct clean water systems, and install playground equipment. volunteers/interns will be led and work together with local skilled people who will be providing free labor for the improvement of their communities. Helping communities through building, lays a foundation that will allow locals to continue with your efforts even after your volunteer work abroad has ended.
Why this program and the need for volunteers/interns/sponsors?
The core of each project is the building or farming work that we undertake in villages or towns. This is the most tangible contribution that we make to communities, and forms a focus for you and the group. Those less keen on heavy building or farming work usually take up the lighter, but equally important, work such as painting or plastering.
We research each project to ensure it meets our strict criteria including an assessment of the need, benefits and long term-sustainability of the project itself, together with levels of community involvement, risk assessments, health and safety requirements, logistical practicality and living arrangements.
The key to any building project is the partnership between you, the team and the local community. As well as bringing essential funding to the project, the presence of a team of volunteers/interns in the town or village community can be a great motivator to local people. On every project, it takes time for villagers to get used to the idea that volunteers/interns actually want to help with manual labor, and initially you will find people trying to do all the work for you. Once you explain that you genuinely want them to teach you the basic skills (eg. how to mix cement or lay bricks) then the partnership really begins to develop, allowing everyone to get stuck in.
Locations: Bekondo (English region), Bangoua and Batoufam (French Region)
Apply to receive the full program job role and other related files.