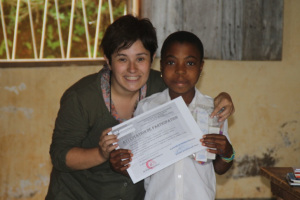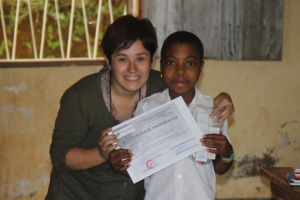 My name is Naroa, I live on the north of Spain, and this summer I've been travelling around Cameroon. During my trip, I had the opportunity to visit WebDev Foundation. It is a local NGO covering many projects which I really found interesting and somehow related to each other.
What impressed me most was to find out that there are some NGO that want to help local communities focusing on education, teaching other ways of living, aiming for a better future for everyone.
Until then, I had not been aware of the importance of concentrating our efforts into education, due to my association of NGOs operations with providing communities with food, clothing. Although these being very necessary, it is even more important that NGOs work to enable a better future with better life opportunities.
I have learnt to appreciate the important things, and that I can adapt to any situation, no matter how difficult it is.
I fell in love with the smiles of cameroonian children. For all these reasons I want to go back Cameroon soon.
Now, back in my country, I will try to convey all these feelings to other people because I believe in humanity after being in Cameroon.
Naroa Ibargoyen (Spain), 2014