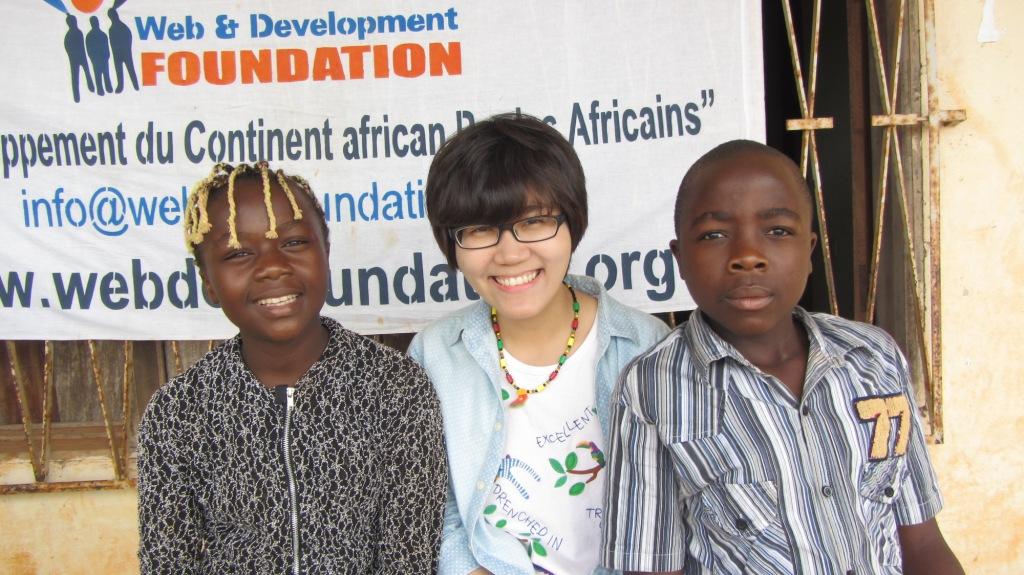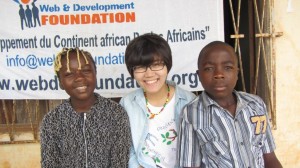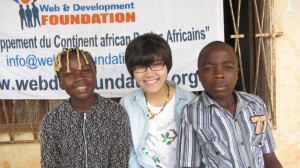 On the second day I arrived at the intern house in Bangoua, TTT, short for Train The Trainer, was held, lasting 3 days, which is aimed to help trainers know more about the organization and the project. Meanwhile, we got to know each other and developed level of understanding various cultures, Cameroonian customs included. Besides, we gained basic knowledge of delivering and presenting sections. At the end of the training, we arrived at the agreement of disciplines and rules of behaviors during our work in the school and living in the intern house.
The project officially begun on 15th, July, on which was a day for information and registration. All adolescents in Bangoua were warmly welcomed. On the next day, everything was well-organized, including Special For Kids, Health, languages, Entrepreneurship and IT. I was responsible for Chinese language Class 1. Before my section, with help of Manuela, an assistant teacher, I finished key notes in 3 languages on the blackboard. Then I begun my lesson with self-introduction in French, English and Chinese version, which rapidly attracted children's attentions. Students were extremely enthusiastic about learning Chinese and a couple of days later, the majority of them could speak "Bonjour" "Bonsoir" fluently in Chinese; moreover, they managed to greet somebody "ni hao" "zao shang hao" on the street, which finally led them to make progress. In addition, an idea was sparkled in my mind, which was that I should give teenagers candies as presents to let them be more concentrated in Chinese class. It did work. What's more, it helped me to get closer towards students and gradually we become friends. Chinese section was the nosiest all the time, which resulted in some arguments on the way Manuela and I taught. However, we insisted on the methods, which was that as we are learning, as we are playing, with which we obtained fantastic accomplishments in the end. The most unforgettable part was the last day of Chinese class, on which all children and I made a video together, doing Chinese self-introduction. I am strongly confident that even now, students can still speak basic greetings in Chinese version, not for me, but for their diligence and enthusiastic towards learning Chinese. I am quite satisfied with my achievements, because I accomplished goals of propagating Chinese traditions, Chinese languages, plus kind and generous character of Chinese people.
Speaking of other sections, Health section is the most impressive section to me. Compared with other countries, China is quite a conservative one. However, in the school, I learnt that sexuality can be taught vividly through all types of activities and interactions. Chinese young people have never been taught about how to use condemns while Cameroonian kids can clearly show how to use them and they know that they are supposed to shoulder their responsibilities to take thorough decisions in the meanwhile. As for IT, I concluded that children in the village seldom use computers because of their being unfamiliar with keyboard and software on PC. The reason is not that computers are considerably expensive in Cameroon, but in their opinion, the computer or the laptop is not a necessity in their family. From my perspective, I think IT section is such a golden opportunity for children in Bangoua to get further understanding of the importance of owning a computer, which is an entrance to the world. Talking of entrepreneurship lesson, although there were fewer students, all of them have passions to learn how to set up and operate a company in the upcoming future.
How I Feel
After internship for a month, I have learnt
(A) the significance of sharing. Firstly, since every volunteer live together in the intern house, from time to time, we have to share a room or a bed with others. Secondly, when attending a meeting every day off work, we share working experience, feelings, barriers we encounter during sections. Partners come up with practical and useful solution, which contributes to the efficiency of coping with difficulties. Thirdly, I teach children Chinese and English, they teach me French in return, which is a powerful illustration of sharing.
(B) the sense of responsibility and team spirit. To begin with, volunteers are responsible for meals in turns, which naturally cultivates our team spirit and develops our cooperation. Moreover, teachers prepare sections one day before, thus not only are we responsible for students, but also teammates.
(C) each person has his/her potential. I haven't been a tutor but often tutored in China, resulting in lack of confidence. Therefore, I was little scared the first time I expressed myself before children. However, I managed to conquer fear and made success in Chinese class. Also, as the only child in my family, I have been spoiled since I was born, which causes my bad temper and shortage of patience. While facing with children and team members, I tried my utmost to avoid misbehaviors and to understand others through communications.
(D) the essence of friendship. I make friends with participants from Italy, Poland, the US, Belgium, Austria, Nigeria, Russia, Tunisia, Cameroon, sharing contacts with each other. I still and will forever remember with help of teammates, I arrived at the summit in the end in the ECO TRIP; I still and will forever remember one partner offers me his blanket to keep me warm in the humid weather. I learn to take care of other people while they are sick, no matter it is a cup of tea or only greetings. The time we share is the most unforgettable and treasured part in my life. Friendship is not that you take something from other people, but you take a step to share yours.
(E) the varied and profound cultures worldwide. Partners I am working with are of different backgrounds. I did experience culture shock on several days. Afterwards, I realize that it is a precious chance to broaden horizon and to understand various customs and traditions. I can't waste time and let valuable opportunity go. In the end, I learn more knowledge of different lifestyle and behaviors of people from different parts of the world and experience multi-culture at the same time. I am glad that I can speak basic French fluently.
(F) the team management skills. Communication skill is the most important skill when proposing your point of view in a group. We are supposed to get knowledge of one's pros and cons then we can easily work with each other. Try to communicate to others instead of arguments. In addition, I have courage to convey my feelings in public.
Thank You
Parents: You raised me up and always are patient and considerate when I am in bad mood. Thank you for all those years teaching me how to be kind-hearted and ready to help others. Thank you for sponsoring me the trip to Cameroon. Clotaire: Thank you for warmly welcoming me all the time. You provide me with such a great opportunity to challenge myself and to dig out my potential. I suppose I have done something wrong because I am still young, which causes misunderstanding between two of us, but I hope we are still friends. Aristide, Manuela, Kehbila: You are my best Cameroonian friends. You are always willing to help me out when I am in trouble. You give me an unforgettable memory during my stay in Cameroon. Ilaria, Sabina, Aska, Tim, Renate, Samuel: I am really grateful to meet all of you guys. Thank you for being my friends. All children in Bangoua: Thank you for giving me a golden chance to be your Chinese teacher. We shared the most treasured time in Cameroon. I won't forget all of you. All in all, thanks for all people I have ever met in Cameroon.
Constance Chou (China), 2013