As every year since 2011, the Madiba Cameroon caravan for its seventh consecutive year lays its bags once more on the land of Bangoua, birth lands of the founder of WebDev Foundation.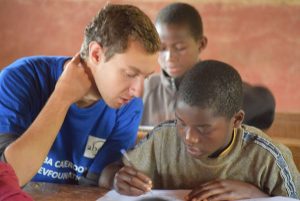 It is around July 23 that the first international volunteers will tread the ground of the project, joining the group of Cameroonians present on the scene since July 3rd. We will count a total of 6 internationals and 7 nationals who in a dynamic of interculturality, exchange and sharing were able to move for 5 consecutive weeks at the Evangelical College of Bangoua about 90 young people and children from 4 to 23 years old. Activities as each year are furnished around education and capacity building in the areas of ICT, Languages, Health, Educational Games …
We have also had, as in the past, a good part of our time devoted to the relationship with the community via the Protestant hospital of Bangoua, notably in the delivery of evening classes in Computer Science and English to the employees and trainees of the institution. We shall be honored this year by the participation of the hierarchy, in particular the Secretary General and the Director. The 4 weeks spent with these people will allow us not only to initiate for some, but also to update the knowledge for other and finally to build a small network of continuous assistance to these same beneficiaries.
Improvements or innovations this year include the Italian and Spanish courses that young people have received with great enthusiasm, and the role-playing games that have encouraged young people to develop their teamwork skills, acceptance of other, but also criticism, fair play and the resolution of difficult problems or situations.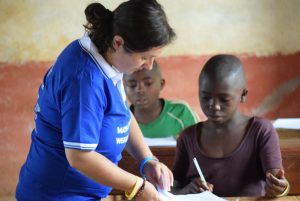 A very innovative and highly appreciated activity was "Suprise to my mom" propelled by His Majesty the King of Bangoua. In short, it is a day of surprise to any mother of the village. The initiative comes from the fact that there are elderly people in the village who no longer have enough strength to meet some of their necessary needs such as: Going to the field, harvesting, drawing water … then during the project, we choose among the participants one of their mother and go to her on a Saturday by surprise and carry out an activity. In 2017 we transported wood from about 2km for one of the Queen Mothers of the Bangoua Superior Chief, to show our respect to our mothers. In the years to come, we would like to carry out such actions throughout the community and this will become a habit within young people environment.
The Madiba Cameroon 2017 project will end around July 20 with a donation of +/- 18kg of essential medicines and 6 blood pockets to save lives, and finally an appointment made for 2018. It is with sadness that the team will leave this beautiful village, this paradise on earth that has welcomed us for so many years.