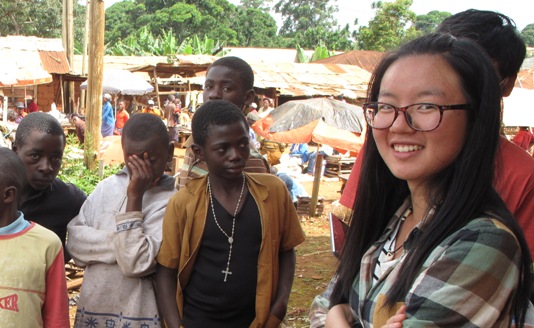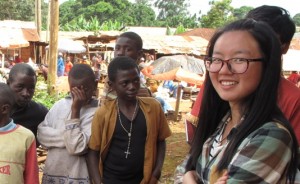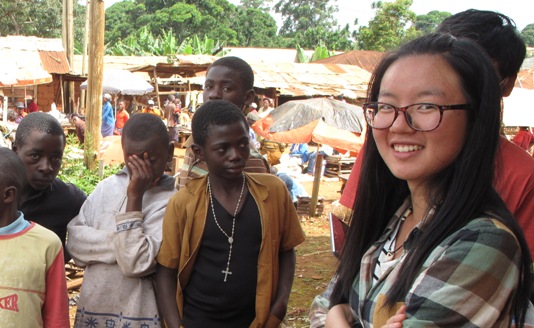 I was very glad to be in the team of the Webdev Foundation. I spent 4 weeks with lots of great partners: Asan, Manuela, Shandy, Stefan, Sean, Anna, Juana, Clara, Franklin, Aristide, Jason, Song, Stephen, Gustav, Gildas and our chief Clotaire. I had a very great time, and together we did a lot of jobs here. This could be one of my best experience in my life.
I worked with Asan to teach the kids basic Chinese words. Like cloth, animals, food, verbs and so on. We combined Chinese words with pictures, and interacted with the kids, making the class more active and fun.
I also did the extra activities part with kids. I usually work with Sean, Asan and Clara on this part. If we do it outdoor, we have to come up of lots of games to play with the kids. Kids are really active and never get tired when they play. We used up all our ideas to play with them! But still I love to play with them, they are active and energetic. They are also clever, after they know the rule, they can quickly take part in the game and play very well. The games are good for children, they can learn a lot when playing.
We did the cultural exchange in class and Global Village.
1) Cultural Exchange in class
I did this one time with Asan. We talked about different regions in China. I especially introduced my hometown, such as food, famous sights and pandas. I showed them videos. The children were very interested.
I think this is a very good opportunity for kids to learn outside world and open up their eyes, and also for me a good chance to make others to know about my culture and hometown. We can know each other better by doing this.
2) Global Village
Global Village took place in the market. Our team is Stefan, Stephen, Jason, Sean, Anna and I. But actually we only introduced China and Romania.
I and my Chinese partners talked about China and Chinese culture with PPT. A lot of people listened our talking, and paid a lot of attention. Some of them are really interested. After the talking, I shared some pasters of China national flag with the people.
We spent a whole week sharing fliers, letting people know about our free body test in the hospital for people. The job was a tough one, we all had to go a long way and share it to every one. But at least we did something.
Then we helped in the hospital for the testing day. Every one had a job. Asan、Song and I were like directors leading people get registered. The work was a challenge for us because we can't speak French. But at last we made it, and we're happy for that.
I made a lot of friends, maybe we will be in different places around the world, but our friendship never end. I will also miss the friends I've met here, especially those crazy ones ^_^!
Miranda (China), 2014