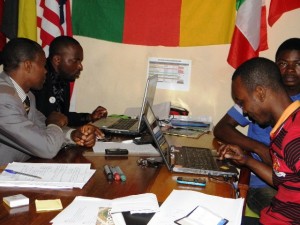 In a social context or access to technology is limited to people living in urban areas, we have trained over three years young in rural areas in the field of ICT and our investigation to date we have trained almost 500 youth in rural areas (3 villages) in Cameroon.
Access to computers is not the prerogative of all social strata in our country; we want to create in the coming years in the city of Bafoussam a multimedia center that will promote access to ICTs of young orphans, and other disadvantaged young people for free training in computer science and computer literacy.
Our Goals
Equipping deprived and underprivileged children in terms of information technology and communication
Strengthen the capacity of youth students and women in rural areas on the use of computer
Initiate programs Computer holiday in secondary schools in rural areas to train the best students in computer usage
Help the youth who will be trained in research internships or jobs at the end of their training.
Promote access to information technology and communication and computer usage in rural and urban area by creating a access center of IT
Increase the engagement of socioeconomic disadvantaged students, girls, and other underrepresented minorities in computer science.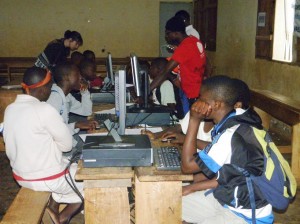 Our Training Plans
Computer Basics | Introduction to IT | Introduction to Computers
Common Computer Terminology | Computer Performance and Features
Computer Operating Systems | Career Opportunities
Digital Lifestyles | Digital Technology and Career Opportunities
The Internet and the World Wide Web | Using E-Mail | Other Methods of Communicating on the Internet
Productivity Programs (Word, Excel, PowerPoint, Publisher) | Computer Security and Privacy
Webmastering
Computer Maintenance
How to set a IT project | Entrepreneurship
Business management
Our Needs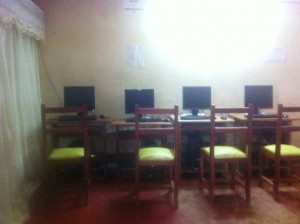 Computers (Pentium 4 and above – CPU: 1.7Ghz – RAM: 512Mb – HDD: 80Gb…)
Laptop (Pentium 4 and above – CPU: 1.7Ghz – RAM: 512Mb – HDD: 80Gb…)
Black and white Printer
Color Printer
Professional Digital Camera
Scanner
Beamer (video projector)
External Hard Drive (Capacity at least 500Gb for backups)
Website creation and administration (with distance learning tool)
Vehicle (1 car with 19 seating places for team transportation)
DVR-ROM and/or CD-ROM (for Backups)
Internet Connexion for 12 months x 47€ monthly fees (Internet + Calls)
More informations, follow our project blog at http://cocetech.wordpress.com